Robotics in Grinding and Polishing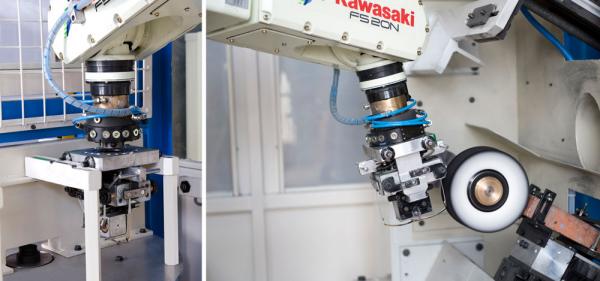 May 2016
Barclays Bank recently published an article about robotics in manufacturing. The article showed that industry in Germany had invested in double the number of robotic installations compared to the UK.
Installing a Robotic Polishing and Grinding Cell will increase competitiveness. Greater UK investment in automation will make businesses more efficient, increasing the value of UK manufacturing and jobs in the future.
At Equip, we have been supplying robotic systems in the UK and Ireland for the past 20 years. As the UK & Ireland agent for Dan Technologies, the combined Equip / Dan knowledge in supplying Robotic Grinding and Polishing Cells means that we have experience of many materials from titanium, steel, brass, wood, lacquers and plastics across all industries.
Equip / Dan aim to provide Robotic cells with easy use interfaces and programming facilities with tough and reliable Robotic equipment based on decades of experience.
Features include:-
| | |
| --- | --- |
| | All Equip / Dan installations feature a patented Working Pressure Control System. This is an active system which keeps a constant working pressure on the part being ground or polished. Our technology gives the ability to change the working pressure dependant on material being worked and automatically allows for consumable wear - thus ensuring consistent quality while also reducing the cost of consumables. |
| | Our units give you the possibility to work 100% autonomously without the need of constant personnel to load and unload the work pieces. You can for example leave the cell operating on a batch of parts unattended (eg. a final production batch could be left running when everyone finishes work for the day - the robot will continue until it runs out of parts to polish or consumables). |
| | Our robotic cells are built with sturdy construction and are built to last, with low maintenance and easy repairs. |
With our constant support and aftercare your project will be managed by a dedicated member of our team who will be with you every step of the way. Systems are fully tested at the factory, producing your parts before being dispatched to your site.
Every Equip / Dan installation is bespoke to your requirements. Please contact us for any information or a consultation for any current or future projects.