Twinpower Discs from Equip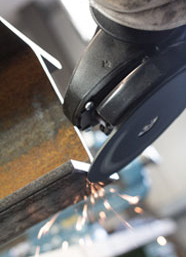 June 2016
The new Wendt Twinpower disc is very versatile and hardwearing. A single disc is suitable for a wide range of applications but is mainly used for beveling.
Unlike generic discs both the top and bottom of the disc can be used. For example this could be used to remove welds and to finish inside grooves or channels. The top side alone is used to finish or deburr under edges or panels. To achieve this the abrasive is applied on both sides of the disc allowing the user to safely grind without changing position or direction.
The thin design and the remarkably firm construction provides an impressive rate of stock removal and allows access into hard to reach areas. For example inside channels, tracks and undersides of surfaces. The lightweight design and elimination of a backing pad allows easy control and less operator fatigue. All of this can be accomplished whilst keeping the operator comfortable and safe.
Features include:-
| | |
| --- | --- |
| | Visi-Cool openings allow the operator to see the work surface whilst also dissipating heat minimising the risk of discolouration. |
| | The discs are available in three grit sizes (40/60/80) for use on a wide range of applications and extremely thin designs are available in 115mm and 125mm. |
| | Simple disc mounting and changeover when used with our special adapter requires no backing pad and discs can be changed by hand. |
For more information about Twinpower discs or to order please call us on 01298 22233..